Q :
What is Dressing?
DRESSING = Truing + Sharpening


Advance, high-performance grinding technology is vital to manufacturing industry today. The demands on the grinding process are becoming ever tougher, both in economics and in dimensional and geometrical tolerances and surface quality.
This is where dressing steps in.
The diamond's superlative hardness and wear resistance; makes it the ideal material for dressing tools. A diamond dresser has one or more diamonds mounted on the tip of its shank and is used for truing and dressing abrasive grinding wheels. The efficiency of grinding and finishing depends on the quality of the dresser.
Dressing tools for silicon carbide and aluminum oxide wheels must fulfill the following tasks:
"True" the wheel to eliminate run-out and correct geometrical shape & sharpening the edges
Restore the required effective roughness of the wheel.
Keep the wheel 'open' for high grinding efficiency
The dressing process exposes a new sharp cutting layer on the wheel. The dressing tool is clamped and guided by the machine and relative dresser / wheel movements (in feed and transverse feed) are executed by the dressing tool or the wheel. The path followed by the dressing tool determines the geometry of the grinding wheel.
Q :
Why Dressing needed?
Dressing grinding wheels is an essential step without which high quality results cannot be achieved. There are as many different dressing tools as there are grinding tasks. Stationary dressing tools with EZ Diamond Tools- Single Point & Multi Point Diamond Dressers are suitable for every grinding application
BASIC GUIDELINE
achieve a superior surface finish and high metal removal rates, it is of utmost importance to work with SMALL amounts of infeed ad (0.002 mm to 0.003 mm; 0.00008" to 0,0012")
In order to increase the wheel's surface roughness, increase the crossfeed velosity vd rather than increasing the depth of dressing infeed ad. Higher crossfeed velocity = higher wheel surface roughness and vice versa.
Notes
Always apply grinding fluid when dressing. Diamonds are very heat sensitive!
Never traverse grinding wheel without further incrementing the dressing depth
Q : Abbreviations of Grinding Terms?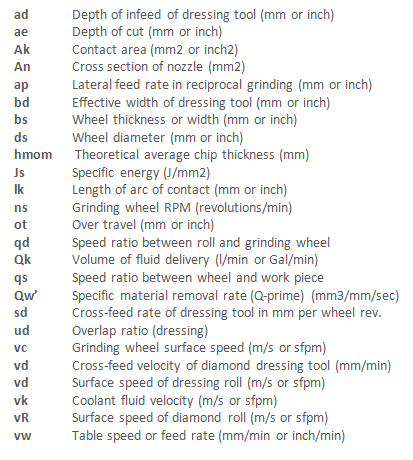 Q :
Why us?
We are backed by well-equipped infrastructure and proficient team of qualified professionals, which helps us in attaining a significant position in the market and retain our clientele all over.

Our fast growth in the industry is possible due to

Fine precision tools
Wide variety of tools
Wide distribution network
Timely deliveries
Warehouse and packaging facility
Transparent dealings
Market leading prices